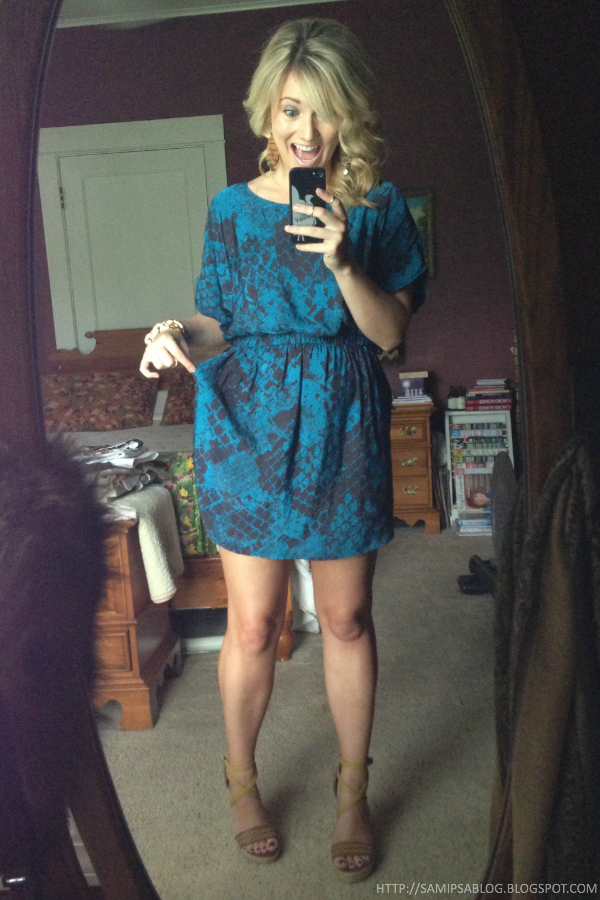 DRESS: EXPRESS via TJ MAXX | SHOES: TARGET | EARRINGS: F21 | BRACELET: J.CREW | WATCH: FOSSIL | RINGS: F21
I'M AAAALLLIIIIIIIIIIIVE!
AND THIS DRESS HAS POCKETTTTTSSSSSSSSS!
I am finally finally finally finally done with the bar exam and that all by itself is enough to make up for most anything else. And if that weren't enough, finding a pretty blue snakey-print dress with pockets from Express on the TJMaxx clearance rack for $15 and awesome strappy wedges I've been looking for since birth on the Target clearance rack for $8 would probably take care of the rest.
Plus these babies make me tall. Like, tall tall. Ain't mad at it.
I wore this for my bestie's bachelorette staycation that involved mani/pedis (incredibly poor shoe choice on that front) and wine and sushi and a froyo bar (Orange Leaf? Yogurtini? How have I never heard of this heaven before?!) and a hotel room and a few rousing games of Never Have I Ever. THE THINGS YOU LEARN, MAN. You think you know people and then you play Never Have I Ever...
Could I be more washed out? No. But I needed you to appreciate the wedge on these guys.
It was too dark to get a full-length shot and it's NOT like you don't already know what shoes I'm wearing. Oh, Target glitter sandals much? Yeah k. And yes that is a picture of wee me in the bathroom, in the bathroom. Irony abounds in our house.
I wore this to go hang out with some of my very favorite friends from my first undergrad (I transferred after sophomore year), two of whom are approximately the cutest married couple ever, and they made us dinner and we made s'mores on the fire pit they frigging built together. Because yeah, be cuter.
What have you guys been up to? I've missed you! Hint hint wink wink nudge nudge you should deeefinitely check back tomorrow... I have a little somethin' somethin' for you guys in honor of you being fking awesome about my random bouts of absence all summer and if you're anything like me (trust me you are, at least about this specific mecca of awesomeness) you shan't desire to miss upon it.